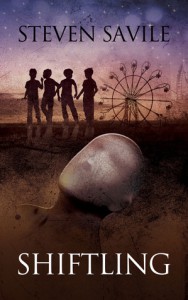 I read this book as one of the Darkfuse books of the month.

Drew and his friends are trying to get enough money together to enjoy the funfair that is visiting their small town. They offer to do odd jobs around their neighbourhood including the local 'boogeyman', Mr Harrison. One of the boys, Scotty, receives something from Mr Harrison that leads to a traumatic experience, the event is still affecting their lives 25 years later.
This story is told in two parts, through flashbacks to 1985 and in the present day. I was really drawn in by the story, I enjoyed Mr Saville's writing and was surprised at how quickly I got through the read. The plot kept me guessing up to the end. I did become concerned that it might start to unravel around the 3/4 mark but the author kept the plot tightly paced, pushing the story to a great finish. I've got more of this author's work lined up on my tbr and after reading this I'm really looking forward to sampling more of his work.
Highly recommended.